All your swimming goggle questions answered 🙂
What swimming goggles should I buy?
Getting the right children's swimming goggles for your aspiring fish is one of the most important and helpful things you can do to help your child to achieve their goals. Well fitted children's or junior swimming goggles will give your child the freedom to explore the underwater depths of the sea and swimming pools for hours on end. The wrong goggles will result in the non-stop pleas to fix them, as well as them developing the rather annoying habit of taking them off constantly. Alas, cheap goggles are cheap for a reason, they're badly made, tend to not work properly and won't last long. Buying the wrong shaped goggles will also lead to many avoidable problems.
Whether you are buying for a 3, 4 or 10 year old, the things you need to look out for stay the same:
The face mask – many parents think this is a good option as their child will be able to see clearly through the mask goggles. Wrong! These goggles are very stiff in form and only suit literally one kind of face shape. All the others will result in leaking. A lot of leaking!
A small bridge – most children have small noses and a small gap between the eyes, and therefore need goggles with a small bridge. If the goggles have a wider bridge, pulling them so tight that your child's eyeballs start popping out won't solve the problem, it'll only make it worse. The goggles are too big. Best solution would be to get proper fitting goggles. If you are unsure, some goggles have an adjustable bridge, so you can hedge your bets.
The goggles we recommend – have a large soft, fleshy frame, small bridge and easy to see-through lens.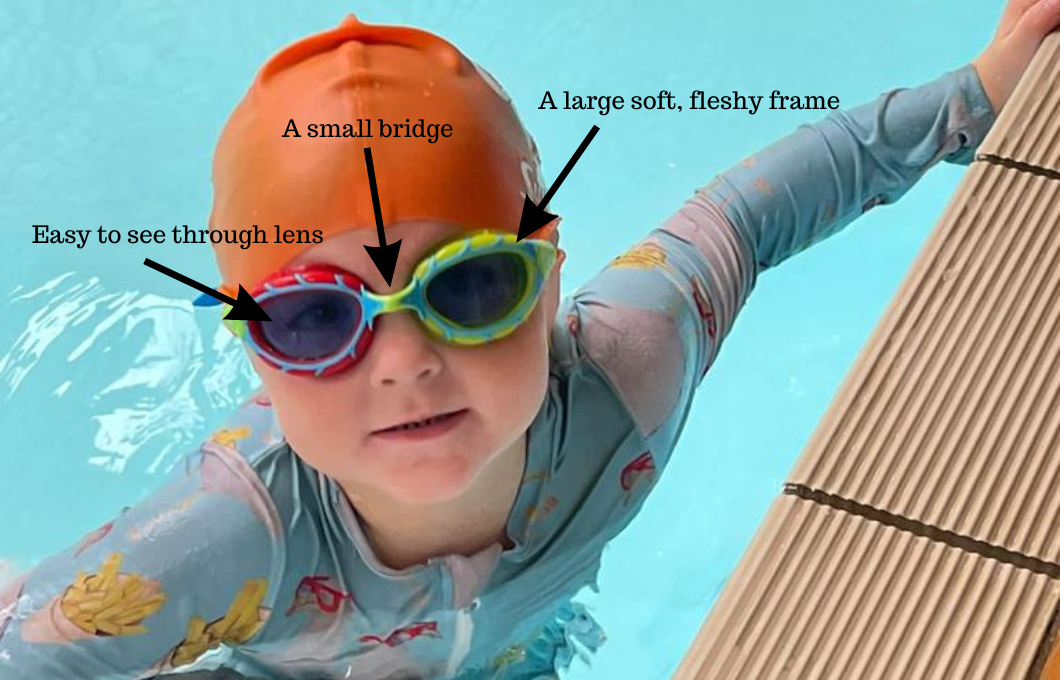 Lens sizes
With children's faces having softer features and structures, a wider lens is usually better. Also it makes it easier to see through. As previously mentioned, steer clear of the mask shape, unless it fits your child's face exactly, it will leak, rendering the whole pair of goggles useless.
Adjustable straps
In our experience, it doesn't usually make much of a quality difference whether the adjustable straps are beside the ear or at the back of the head. We have found that straps at the back of the head tend to be easier for the child to adjust themselves – whether you want them to adjust their own straps can open a can of worms – if your child tends to fiddle with things or get distracted easily, then perhaps having the adjustable strap alongside the ear may be a better option.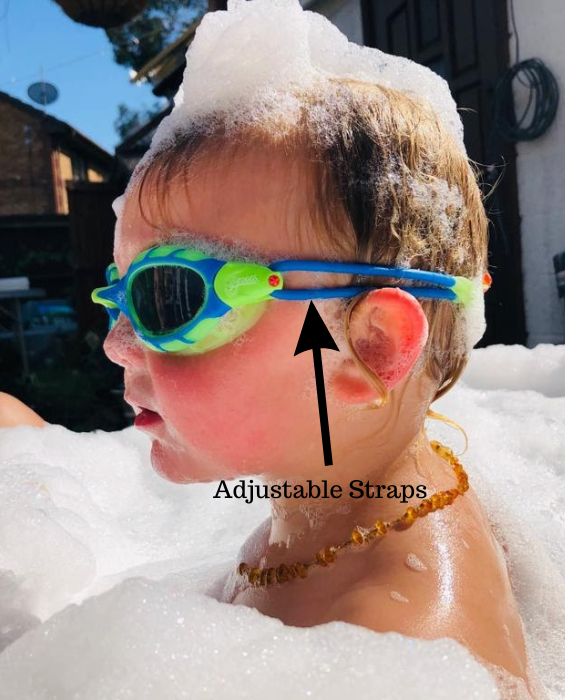 How do I know if my child's goggles are a good fit?
Goggles should always feel comfortable and have no leak at all whilst swimming. It may take a few goes to get the hang of putting your child's goggles on properly. Watch our helpful video on how best to put on cap and goggles and you will have it mastered in no time at all! The main things to look out for:
Make sure that the goggle pads have a clear suction onto the skin without anything breaking the seal, such as hair or a cap rim
The goggles should pull off the face easily. If you have to tug hard to get them loose, then they are too tight-loosen the strap. A slight red mark is usually ok, if it doesn't hurt, but deep red lines are a no no, as they will start putting pressure on your child's eyes
If the goggles are leaking even though there seems to be a clear suction on the face, it could mean that the goggles are too wide for their face. Check whether there is a proper suction on either side of the nose. You will normally see where the water is leaking in, if there is a leak. If your child's goggles have an adjustable bridge, you can easily put it on a smaller nose. If they are part of the mould, you will have to buy a smaller pair and save the bigger pair for down the line.
You shouldn't have to clean the goggles if they are sitting on the face properly, but if the anti fog needs a bit of help, a quick lift on the bottom bit of the goggle that rests on the cheek, should allow a finger swipe without having to take them off completely.
Where to buy children's swimming goggles?
Thankfully in today's day and age, finding good goggles is an easy find. Most online shops such as eBay and Amazon have a good selection, as well as searching for well known brands, such as Zoggs, Speedo, etc.
Do babies need swimming goggles?
The main function of swimming goggles is that the swimmer can see and direct where they are going under water. As we teach alongside children's natural development in all our lessons, in baby lessons we focus largely on developing their macro motor skills, water confidence, building muscle and coordination and underwater confidence. Once they have mastered these skills, then the focus turns to more structured swimming, such as rhythmical breathing and learning strokes, which is where goggles come into play. At Cindy's Swim School, this happens around the age of 2 years old, when they start to transition from baby lessons to toddler lessons.
So to conclude, feel free to introduce swimming goggles to your baby, but don't worry if they only use it as a chew toy 🙂
Can you get prescription goggles for children ?
As swimming goggles' main function is to allow you to see under the water, children who wear glasses will need specialised goggles to see under the water. Enter prescription goggles for children, and for anyone who wears glasses. A quick internet search brings up multiple options for you to choose from. Just make sure you get a pair of goggles that will fit your child's face shape. See above for our tips on 'What goggles should I buy'?
Do I need anti fog?
I think we all remember back to our childhoods, wearing goggles really wasn't all that helpful, they would get so foggy, we could barely see our hands in front of our face! And although spitting into your goggles does give some anti fog help, wouldn't it be so much nicer if you didn't have to worry about it? These days anti fog is much better, making swimming a much more pleasurable experience. As with most things these days, the cheaper you go the worse the quality. Same goes for goggles. The cheap goggles you can pick up at the Pound shop may cost next to nothing, but they will also offer you the same cheap quality. Most decent brands will have anti fog included, and should say so on the package description.
What to wear and what to bring to your swimming lesson?
You have found a smashing pair of goggles that fits your child's face perfectly, so what next?
First off- we highly recommend that you get your child used to wearing a swimming cap as soon as possible. A swimming cap is the goggles' best friend. They help keep the goggles in place, keep ears and hair 'mostly' dry and most importantly, keep hair out of swimming pool water filters, which keeps water clean and healthy to swim in. Silicon caps are the best, they don't need to be dried or have powder added to them and they don't tend to pull hair. Swimming caps also make the perfect vessel to put wet costumes in after a swimming lesson 🙂
A stretchy swimming costume or swimming trunks is also a must. Stiff material swimming costumes make it very difficult to climb in and out of swimming pools and may restrict your child's movements whilst they swim.
And at the end of their active and busy lesson, a warm thick towel to dry your child with afterwards will always be appreciated!
A good and sturdy swimming bag that you can keep all your swimming stuff in makes for easy storage and you'll never forget your new and shiny goggles again!
Most swim schools will not need you to bring anything else, but it is always good to check before your first lesson so that you and your aspiring fish are ready!